The pearls princess long dress features a simple standing collar and cut shoulder design that accentuates the shoulders and neck, creating a feminine and elegant look. The pearl chain embellishment adds a touch of sophistication and visual interest, making the dress unique and eye-catching. Made with attention to detail, this dress is a perfect combination of simplicity and elegance.
Product Features
Pearl String: The dress is adorned with a pearl chain embellishment, adding a touch of elegance and sophistication. The pearls create a dynamic and eye-catching effect, enhancing the overall beauty of the dress.

Long Dress Length: The dress is designed to be long, creating a graceful and flowing silhouette. The length adds a sense of sophistication and makes a statement at any formal event.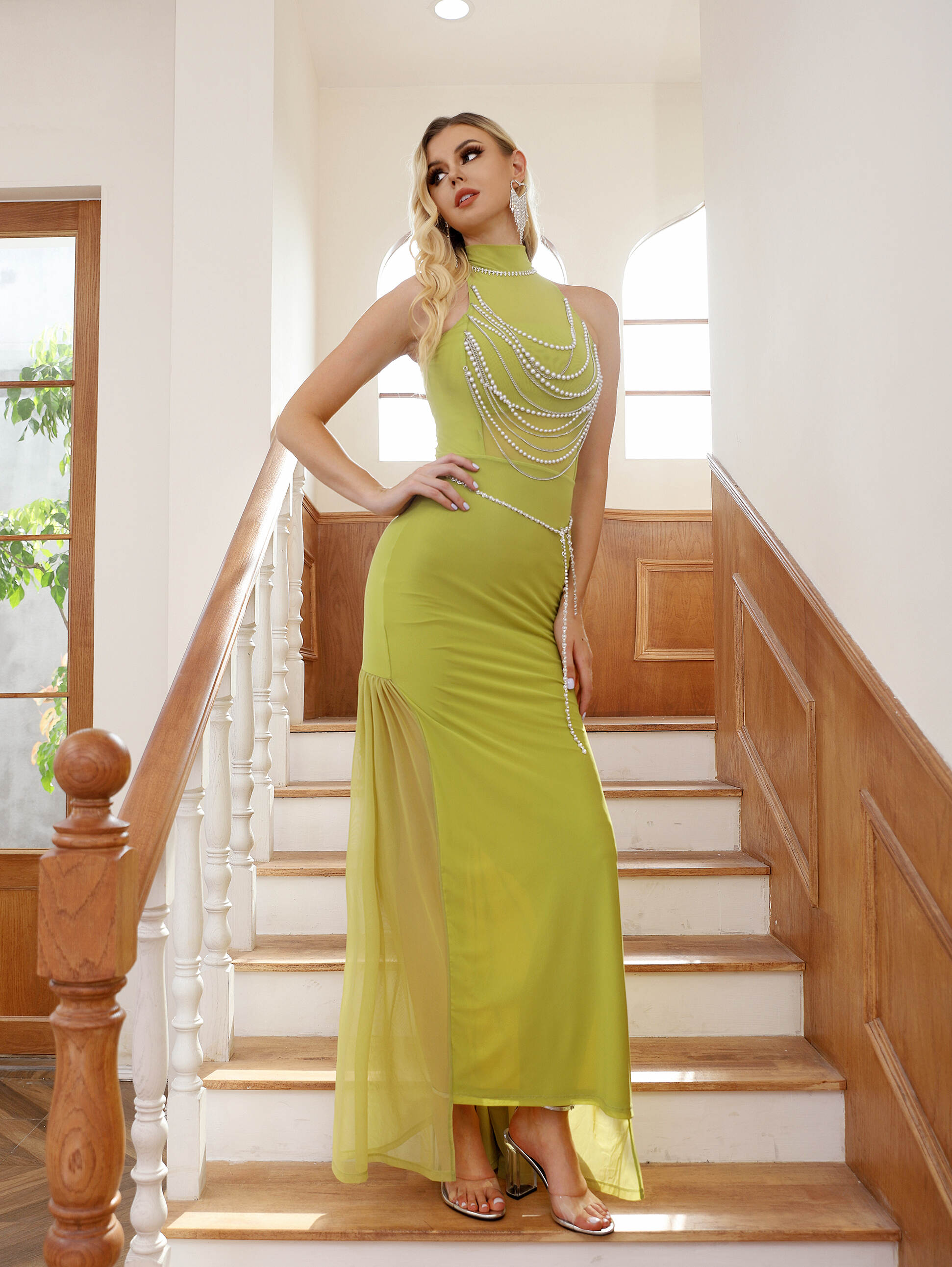 Details
Style No: MY-168
Material:20% Cotton, 70% Nylon, and 10% Mohair
87% Nylon and 13% Spandex
95% Nylon and 5% Spandex
Color: Olive Green
Size: XS, S, M, L, XL, 2XL (or customized)
Packing: Customized
MOQ: 100pcs/design/color
Product Advantages
Enhanceable Contouring: The dress provides enhanceable contouring, with removable padding that allows you to sculpt and shape your silhouette to your liking. You have the power to create the perfect curves and enhance your natural beauty.

Sheer on Legs: The dress features a sheer fabric on the legs, adding a subtle and alluring element to the design. This sheer detail adds a touch of sensuality while maintaining the overall elegance of the dress.
Applications
Proms and Homecomings: Make a statement at your prom or homecoming with the pearls princess long dress. Its graceful silhouette and pearl embellishments will ensure you stand out from the crowd and create lasting memories.
Cocktail Parties: For cocktail parties and social gatherings, the pearls princess long dress is a chic and stylish choice. Its timeless design and rich olive green color make it a versatile option for various social events.